Plastics
Germs are about to feel the heat: Fraunhofer LBF develops optimized plastic surfaces for UV disinfection
Many surfaces with a potentially high germ load, for instance in supermarkets, cannot be chemically disinfected. One solution is high-energy UV radiation with a wavelength of 100–280 nanometers (UV-C), which can kill many pathogens — including COVID-19. However, this approach may also damage plastics. The Fraunhofer Institute for Structural Durability and System Reliability LBF has now initiated a project that aims to develop procedures for better understanding UV aging of plastics, as well as preventing degradation and enabling routine and large-scale use of UV-C disinfection in the future.
UV-C radiation destroys the DNA of microorganisms such as viruses, bacteria, yeasts and fungi. For this reason, it is currently used for sterilizing surfaces in operating theaters and laboratories, disinfecting indoor air and purifying water. The radiation makes contaminated surfaces germ-free in a matter of seconds without the need to use harmful chemicals. The UV-C dose applied, where dose refers to irradiance by exposure time, must be sufficiently high to effectively kill any germs on surfaces.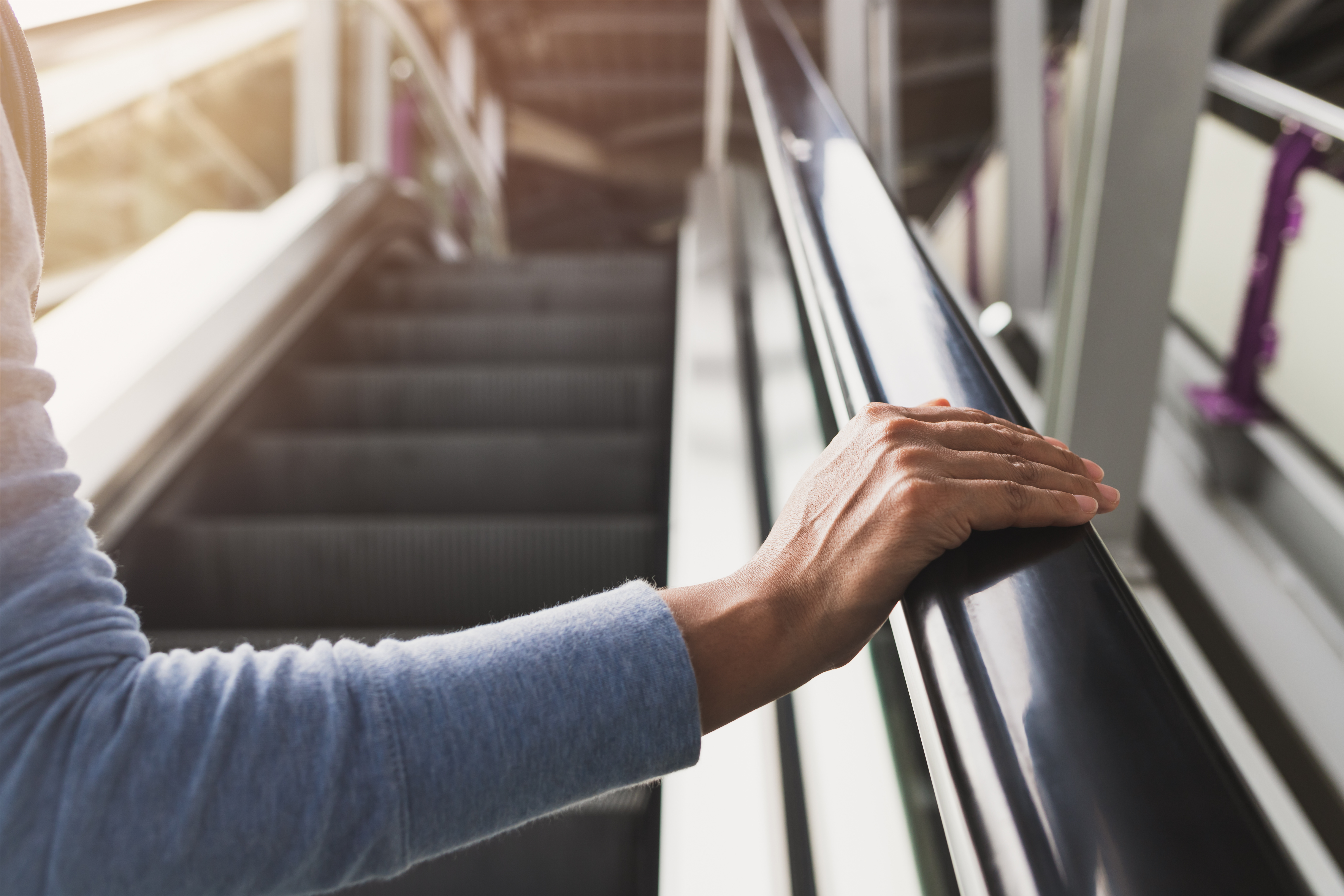 Out in the real world already: Disinfecting escalators with UV-C
Disinfection with UV-C radiation has attracted increased levels of interest since the beginning of the coronavirus pandemic, as it can be used to quickly, easily and automatically sterilize not only protective masks and textiles, but also contaminated surfaces in department stores, shopping malls, train stations, and airports as well as hospitals and test laboratories. UV-C disinfection is already in use in escalators, with sterilization modules being installed on the hidden undersides of the escalator handrails. The handrail is continuously irradiated as it loops around, keeping it germ-free. In addition to combating the coronavirus, this also makes the escalators safer; many people avoid holding on to handrails because they're concerned about the risk of infection.
In the current climate, retrofitting existing escalators may be advisable. Additional options for systems to be newly installed in hospitals, retail spaces and public transport are also being developed. Mobile systems and handheld devices are also in the pipeline. At the same time, systematic studies on germ load reduction are still at an early stage. "Quick solutions are needed first and foremost during a pandemic. But those operating UV-C devices must also safeguard equipment, buildings or laboratory facilities against damage by high-energy UV-C irradiation in order to maintain their planned life cycle value," points out Dr. Robert Brüll, group manager for Material Analysis at Fraunhofer LBF.
What are the effects of high-energy UV-C radiation on plastics?
Few studies have been conducted on plastic aging triggeredby high-energy UV-C radiation as yet. "The exact mechanisms of the damage to polymers are unknown, and there has been almost no research done into the effect of additional factors such as humidity and temperature. The efficiency of stabilizers against UV-C photo-oxidation has not been studied either. However, all this is a requirement in order to strategically select polymer materials, develop formulations with the longest possible lifespan in UV-C application areas and use irradiation in a way that results in less material wear," emphasizes Dr. Brüll. As part of this process, various custom solutions would have to be developed for different types of plastic — such as elastomers (e.g., gloves, conveyor belts, handrails or cable sheathings), thermoplastics (food packaging, casing, cable ducts, etc.) and lacquers (e.g., for supermarket shelving).
As a result of numerous requests from partners in industry, the Plastics division at Fraunhofer LBF has initiated an internal project to study the influence of UV-C on plastic aging and develop UV-C-stable polymer materials. "We are inviting interested companies in sectors such as radiation technology, trade and transport, or developer of plastic materials to collaborate with us," says Dr. Brüll.